These Are the Most Fascinating Eureka Springs Caves You Can't Miss
With stunning lakes and mountains, abundant wildlife, and endless ways to explore nature, Eureka Springs is an outdoor lover's paradise. Some of the most unique outdoor attractions in the area are the spectacular underground formations dotted across the Arkansas landscape. Continue reading to learn where to find the fascinating Eureka Springs caves and caverns.
Eureka Springs caves are just one of many fabulous sites worth exploring during your vacation. For information on all of the area's best outdoor attractions and activities, request access to our free Vacation Guide. We've included our top recommendations on things to do in Eureka Springs including restaurants, shopping, sightseeing, and more. We know you'll have the best vacation!
Top 3 Eureka Springs Caves
Cosmic Cavern
Cosmic Cavern in Berryville, Arkansas, is one of the state's most beautiful locations and the largest privately-owned show cave. Discovered in 1845, the cosmic caverns feature the longest known soda straw in the Ozarks along with two bottomless cave lakes. Join an intriguing tour of the cave that lasts approximately 1 hour 15 minutes. The cave remains at a cool 64 degrees year-round, so it's a wonderful attraction no matter when you visit!
Onyx Cave is a small and mysterious cave located six miles east of Eureka Springs, AR. You can tour the cave at your own pace on a self-guided tour with a headset that describes the history of the caves. This is a wonderful cave to visit if you're driving by or only have a short time to spare as the tour only takes about 30 minutes! As with the Cosmic Cave, Onyx Cave remains at a cool, steady temperature throughout the year.
War Eagle Cavern
A seasonal attraction opening in March, War Eagle Cavern offers cave tours, gem panning, and a children's maze. Located on Beaver Lake, the cavern is the perfect family attraction! Guided cavern tours take place throughout the day and feature leisurely pet-friendly trails, interesting stories, and stunning views. If you're looking for a more in-depth caving adventure, War Eagle Cavern also offers spelunking tours!
Unwind at Beaver Lake Cottages
After spending some time exploring the incredible Eureka Springs caves, make your way back to Beaver Lake Cottages for a relaxing stay. Our cozy, glass front cabins offer breathtaking lake views, luxurious amenities, and easy access to the area's best activities. Beaver Lake Cottages is the perfect home base for all of your Eureka Springs adventures!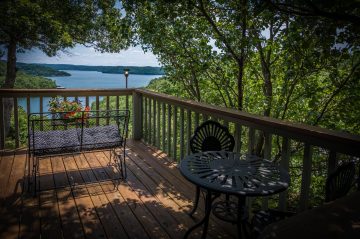 Nestled in the stunning Ozark Mountains, each of our peaceful cottages provides all the necessities for an indulgent vacation. Enjoy comfortable furniture, spacious outdoor areas, fluffy towels, soft linens, and well-equipped kitchens with all the cooking essentials. Spend your time relaxing with a glass of wine on the deck or snuggling by a roaring fire. However you choose to spend your time at Beaver Lake, you'll surely leave feeling rested and restored.
Check availability of all our accommodations now and book your stay today! Also be sure to take a look at our wonderful packages to make your stay extra special. The ultimate Eureka Springs vacation awaits!
Other Articles
Here Are the Top 5 Eureka Springs Restaurants — 7 of the Best Eureka Springs Bars